If you're reading this, it's too late.
You've probably already seen hundreds of 404 pages on your journey through the internet.
But that doesn't mean we should sit idly and just let them happen.
Because 404 errors can negatively impact our SEO performance.
Let's get started by diving deeper into what a 404 error actually is.
What is a 404 error?
A "404 Error" aka ("Page Not Found") is server response code that occurs when a user has clicked on a broken link or mistyped a URL, and the website could not find the page they had requested. Technically speaking, a 404 is the standard status code that is shown when the server cannot find the content that was requested.
How do 404 errors happen?
A 404 response code can be caused is generally caused one of 3 ways:
By the user making a mistake, an external website or your own website.
How a User Can Cause a 404:
– Manually enters an incorrect URL
How an External Website Can Cause a 404:
– Links to your website with an incorrect URL
How Your Website Can Cause a 404:
– An incorrectly configured server
– The requested URL has moved to a new location without a redirect in place
– An internal link on the website is using an incorrect URL
– The page has been permanently deleted with no redirect in place
Why should I care about 404 errors?
According to springtrax.com, approximately "74% of those who will encounter a 404 error will leave your website and never return".
So 404 error pages are kind of a big deal, because they significantly impact your conversion rate your revenue.
So what should you do?
You could use a software called Dr Link Check
Instead of manually checking all the pages of your site and clicking through all the outgoing links, let Dr. Link Check do the work and give you a report of the links that need your attention.
Here's what the tool looks like under the hood: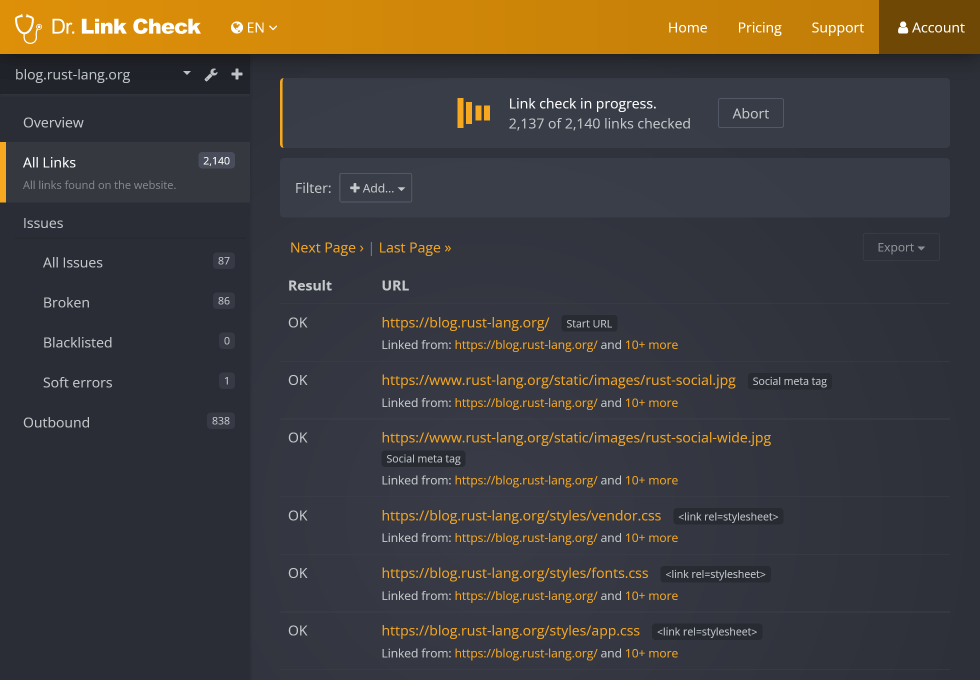 "Dr. Link Check not only identifies 404 errors but gives you a full searchable inventory of all the links on your website. It shows you which links were redirected, which ones were found on a blacklist, what link changes were made since the last crawl, and many other valuable insights. No other tool can do that."
If you give the software a try, let me know what you think!